Company Profile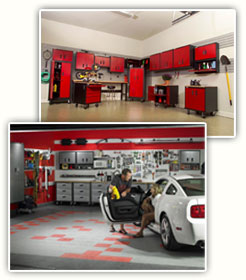 Urban Garage was founded following their 25 years of combined experience in home renovations and handy-man services. They encountered many desperate home-owners who were frustrated with the condition of their garages and who were seeking ways to maximize the wasted space in their homes. In order to help clients renovate and organize their garages, storage spaces and homes, they created Urban Garage.

Urban Garage partners with reputable, high-quality suppliers in order to provide products that are time and cost effective, as well as aesthetically-pleasing and structurally sound. Most recently, Urban Garage has partnered with high-end cabinetry supplier Cabinets by Hayley and Gladiator Garageworks. This new line offers high density storage systems made with heavy duty steel construction. Urban Garage is one of only three home-renovation companies that offer this stylish storage system in Toronto.

Since its inception Urban Garage has renovated and organized garages for a variety of different homes in the GTA, and surrounding areas including St. Catherine's, London, and Keswick just to name a few. From seven-car garages to single-car garages, Urban Garage incorporates their high standards to all their projects no matter the size.